[ad_1]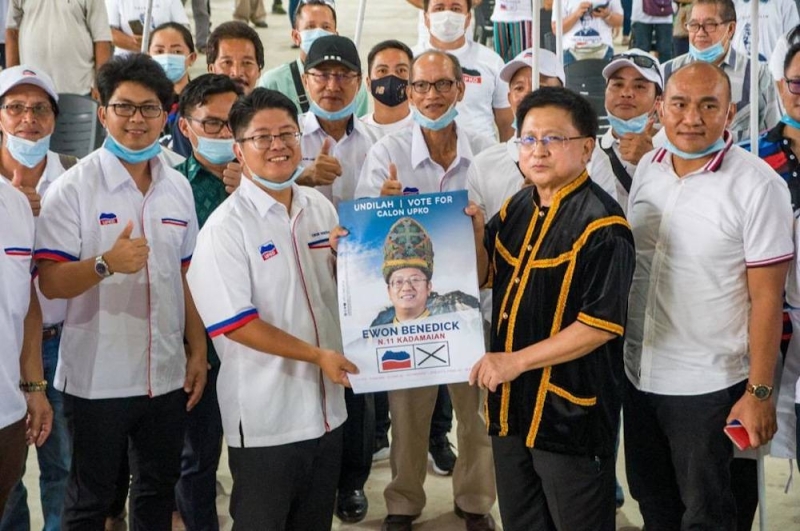 File picture shows Datuk Ewon Benedick and Tan Sri Richard Malanjum posing for pictures at the launch of the Upko election machinery at Kadamaian Square in Kota Belud September 12, 2020.
By Julia Chan
Saturday, 12 Nov 2022 7:54 PM MYT
PENAMPANG, Nov 12 — Pakatan Harapan's Penampang candidate Datuk Ewon Benedick sought to convince voters to back him because he was from a different party to the incumbent who was already a state assemblyman.
The incoming Upko president said this would also allow Datuk Darrell Leiking to focus on his duties in the Moyog state constituency, and that the political rivalry would spur both to perform better.
"My friend and Penampang incumbent, Datuk Darell, is currently the Moyog assemblyman and will continue to hold the responsibility for a while.
"If the voters of Penampang choose a different MP, it will create healthy competition as both will be competing to one-up each other. They have to be seen to be doing at least as much as the other," he said in his campaign speech in Kampung Guunsing today.
Ewon, who is also the Kadamaian assemblyman, vowed to show better results than his opponents were he to be elected by Penampang.
"Healthy competition is good. If the people of Penampang find it hard to meet their elected representative, then this would compel anyone who wants to serve to go down to the ground and be seen helping," said Ewon.
Leiking is the two-term incumbent for Penampang and has been the Moyog assemblyman since 2020.
He is facing stiff competition from Ewon in a four-cornered fight including Parti Solidariti Tanah Airku vice president Kenny Chua and independent candidate Richard Jimmy.
[ad_2]

READ SOURCE